What will be the marketing trends in 2020? How can you master offline and online marketing to grow your business efficiently in 2020?
Here are some questions that the speakers tackled a few weeks ago at Marketing Underground, one of the biggest marketing events in Berlin. With this summary, I share what I think will be part of the marketing trends in 2020, as well as some tips I have learned from the speakers there.
Digital marketing has been booming since the rise of the Internet. The new generation doesn't watch classic marketing channels like TV or radio: they follow their stars on Youtube and Spotify.
Companies don't need to go in the street to sell their product anymore: they can reach most of the population online with much cheaper costs than for traditional events and conferences…
But does it mean that the old classic channels are dead?

Is there still some space for offline marketing in 2020?

Or will the combination of offline and online marketing be the new trend?
The founder of the Marketing Underground event, Marco Janck, is captivated by the modern possibilities of connecting the offline and the online world. The mission of his event is to promote the mix of analog and digital, to let creativity and creatives meet performance and digital marketers.
As a marketing consultant and coach, my role is to help companies to define the best growth hacking strategy and the ideal growth team to boost their revenue. While you have to take advantage of the digital world potential (with hyper-targeting, automation, and content personalization), I personally believe that people slowly start to realize that we also need to keep some space for real relationships, for offline exchange between human beings, and that offline marketing is not dead! In my opinion, the most successful companies will be those who find the right balance between the digital and the human/analog world and who build growth teams who are agile and nimble in both worlds.
[lwptoc skipHeadingLevel="h1,h3,h4″]
Marketing trends in 2020: my opinion
Here is my general feeling after the event:
Videos should be included in your marketing arsenal and you should leverage influencer marketing if you want to be successful
Tiktok is huge, don't jump on it too late!
Knowing your audience, segmenting it and creating hyper-targeted and valuable content for every segment with email marketing automation is key
Taking diversity into account in all your communication is very important (and not such an easy thing to achieve the right way)
For every presentation I had the privilege to watch, here are some notes on the speakers and some of the tips they shared.
Facebook advertising hacks with Simon Mader
I only saw the end of Simon's presentation, but he showed some solid results and useful tips if you advertise on Facebook.

Duplicate your ads to increase your relevance score

When you start your ad, Facebook will show it to a few hundred people and quickly rate it with a relevance score. The higher the score is, the less expensive it is for you. Some times it happens that the few hundred people seeing your ad are not the most relevant people, so you should therefore duplicate all your ads (exactly as they are) 3-5 times and then stick with the highest score one.
Retarget with reach and social proof

If you are not using retargeting, you are losing a big opportunity. Simon advises to retarget your website visitor with the Reach goal of Facebook. To make it effective, use social proof in that retargeting.
Julius is a Strategy and Campaign advisor in politics. He has worked as Regional Director for Barack Obama in his 2012 campaign, so we can say he knows his way around politics!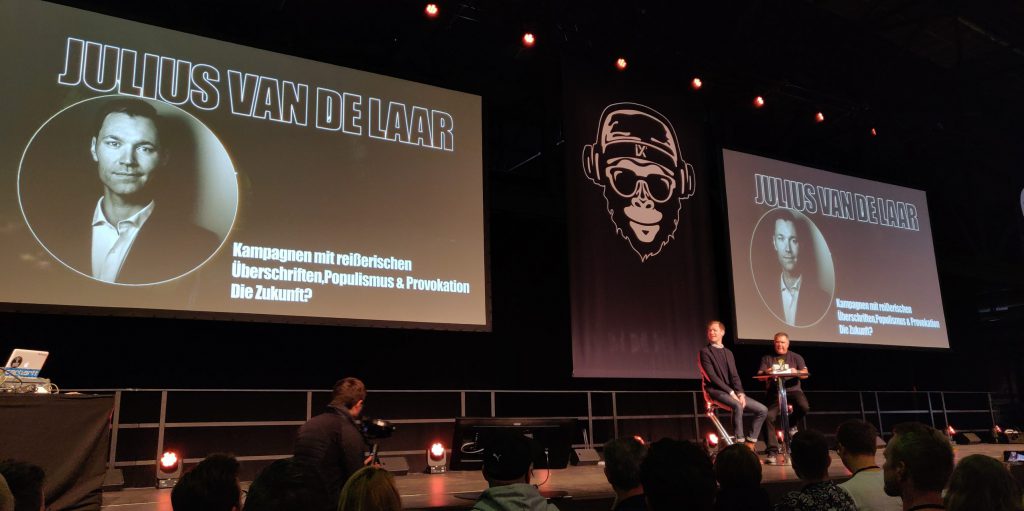 Each campaign should be an answer to a question. You should find out what is the question your audience has and how you can answer it.

I personally think that this is valid as well outside of politics. You should find out what the questions of your customers are and provide valuable content to answer it.

Relational organizing will be parts of the trends in 2020

I didn't know what Relational organizing was, but it's apparently combining offline meetings with data and technology to find out whom you should contact to find new voters, and how they should be best approached.

Warum ich und Warum jetzt (Why me and Why now)

Winning the election usually comes down to who answers best that question. I personally think the same is true when you try to sell a product. You have to be able to explain to your customers why you and not your competitor, and why now and not later.
How to make cool social media videos with Calvin Hollywood
Calvin is a photographer, entrepreneur and social media influencer, and he is definitely an entertaining speaker!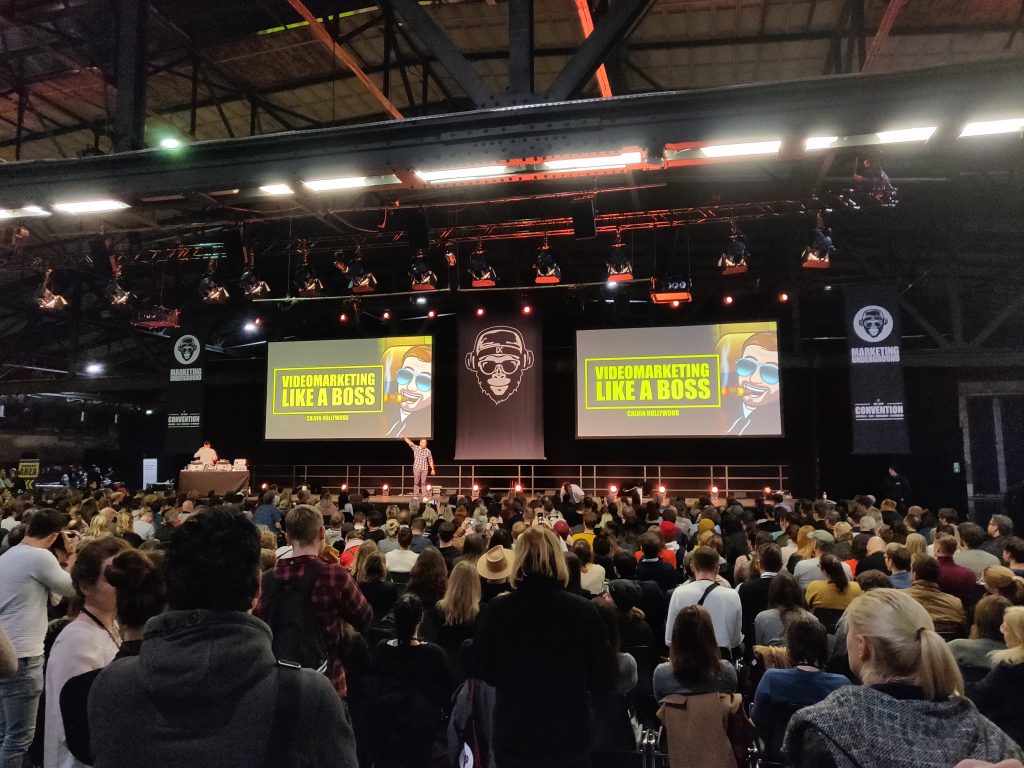 Don't take your self seriously

lots of people overthink too much before posting and are worried about thoughts like: "Oh, but I don't look good enough!",….  Calvin's tip: you don't do it for yourself, you do it for your audience and you should let them decide which content is good and just dare to publish!

Instagram is the equivalent of Reality-TV

It is for instantaneous content! People don't scroll down, so don't worry about what you post as people won't see it tomorrow. In consequence, don't post there if you want people to find your content in 6 months.

Youtube is like a documentary TV show

People can find your content via SEO and the Youtube search
Long videos work best.

They should be at least 10-15 min. That way lots of people might leave but the people who stay will become fans and potential clients

Facebook is like the news
Live streaming

Again, don't be afraid: just do it, leave it online for 24h, and you will see that nothing bad can happen. Calvin showed it pretty well by going live, talking gibberish and posting it on the stories of his account with 70k followers.
It is not important to be or look cool, it is important to help and communicate with others.

Tiktok

Use it as a content production machine

Thanks to its huge reach, use it to create and test content rapidly and then use the most successful content on other platforms.
Online marketing budget planning with Christoph Hemmann
Christoph is a Performance marketing Project Lead at the agency Ironshark. He made a very insightful presentation showing some results he had with his clients.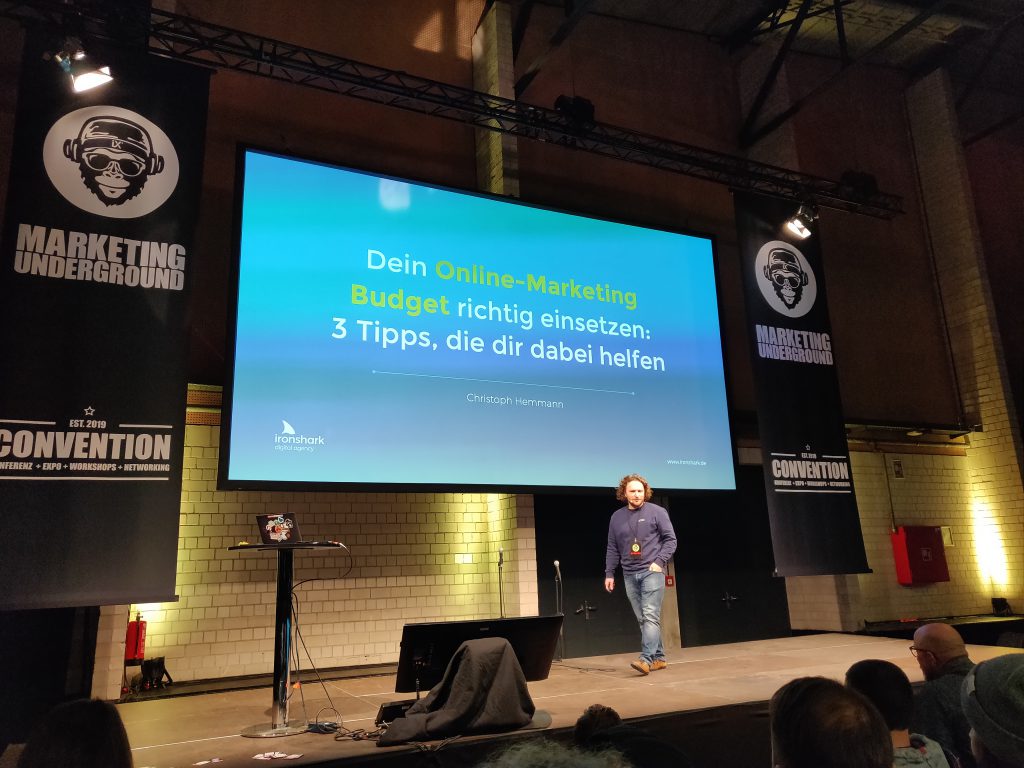 Don't use a linear fixed monthly budget!

Christoph showed very well that revenue can be improved by adopting the budget to the demand in peak months. Use the keyword planner to find out the monthly search volumes and adapt your budget with the seasonal peak demands.

Find out your bottleneck (and use professional tools)

For one of his clients, only 1.8% of revenue was generated from email marketing. By improving his email templates and investing in a professional marketing tool, he improved the value of his client from 37k in 2017 to 87k in 2018, with only 17h of work.
Becoming a social media influencer with Aaron Troschke
Aaron is a TV moderator and one of the most popular social media influencers in Germany, with 1 million  followers on Youtube.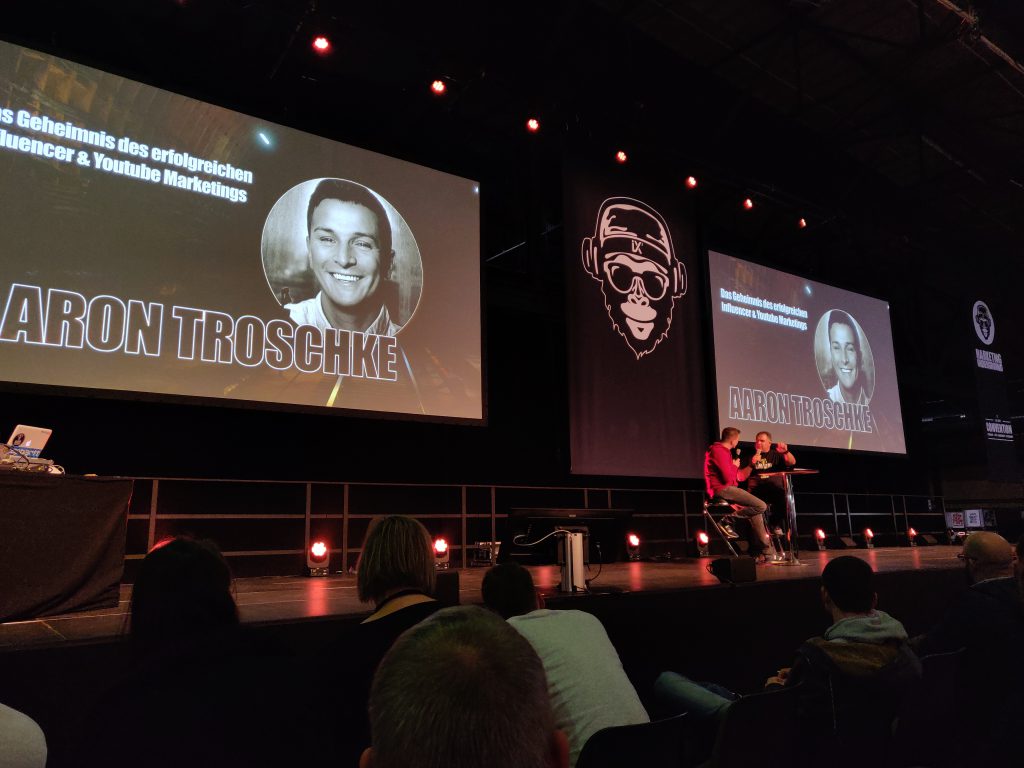 Patience and consistency is key!

Stay in line and be motivated. On Youtube most people give up after one year, so if you keep on posting good content regularly for more than one year, Google algorithm will start rewarding your persistence and your content will be progressively pushed in front of a bigger audience after that first year.

Always be authentic

Social media is very different than TV. Will Smith also said the same thing recently: to be a star in the past, you had to remain secret, mysterious, and show as less as possible from you outside of your official movies or TV channels, but with social media, you can not be a star if you don't show a part of your personality and show who you "really" are backstage.
Adapting your UX and taking into account diversity in marketing with Astrid Kramer
I loved Astrid presentation and I would share it all if I could, but I don't want to spoil it, so I definitely advise you to check her out. She is an experienced digital consultant, specialist in SEO, UX, and brand management.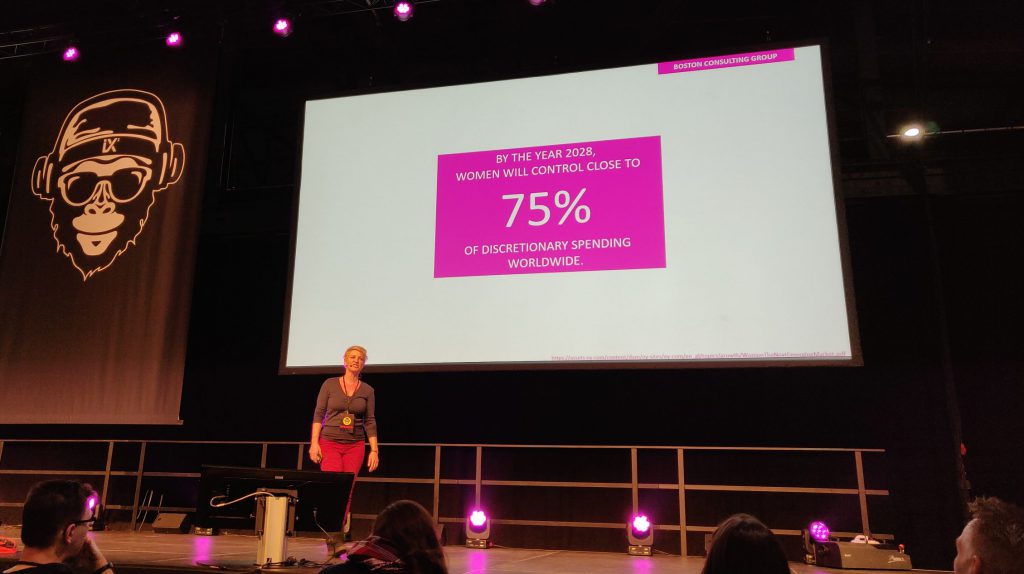 Get away from the white (often male) advertising cliché and adapt to the reality:

25% of people in Germany have a migration background ("Migrationshintergrund" in German)
The women's market will be the biggest opportunity in our lifetime! (source: BCG) – Women will control 75% of discretionary spending worldwide

Diverse teams perform best

That's no surprise! What do you think works best: Having 10 men trying to sell to women or having a mixed team doing the same job?

9.4% of the population is severely disabled so adapt your UX accordingly

You can use tools like the Chrome extension vision simulator No Coffee to put yourself in the shoes of visitors with vision problems
Offline ads with targeted content on outside panels by Wall Decaux
Michael Fritz showed how Wall Decaux adapts the ads on their outside panels, firing for example different ads based on the weather or the user targeting.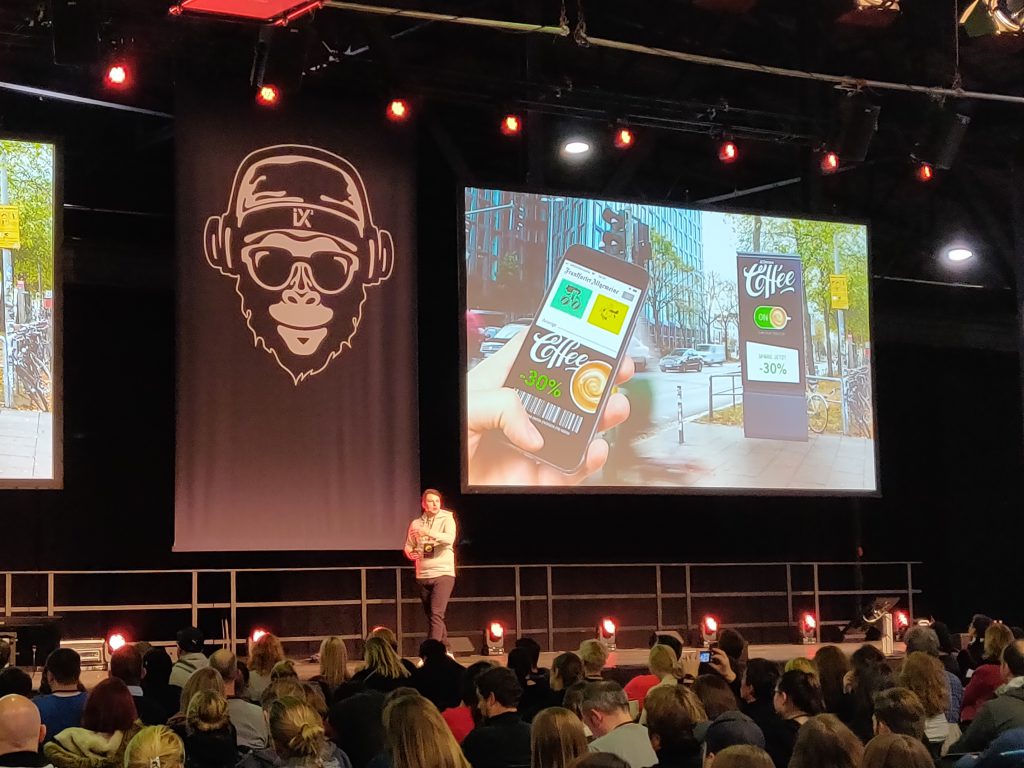 Marketing automation along the customer journey with Robin Heintze
Robin, CEO of the consulting agency More Fire showed plenty of insightful examples on how to automate your marketing according to your users all along the funnel. You can even download his presentation here.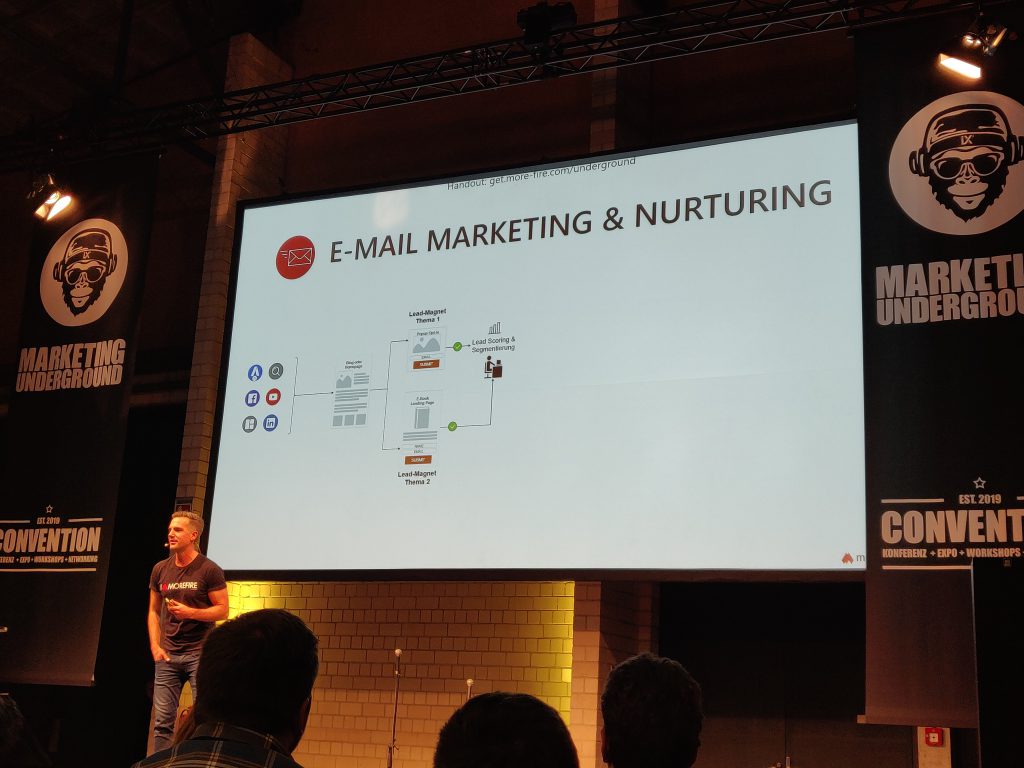 Boost your ebook download with contextual advertising

Context is key, so while an ebook pop up led him to the usual 1-2% download rate on one website, an ebook advertised in context with Adwords led him to download rate of 22%.

Segment your audience in order to deliver targeted valuable content to each segment!

Tip: if you are in B2B, remove all gmail addresses as they won't probably lead to any conversion

Email marketing automation works when content is relevant

You can even automate appointment booking with email marketing (and make it easy for people to book an appointment with calendar tool like Calendly).

His tips

Use a CRM
Provide fantastic content
Don't start with too complex automation
Talking about logo design with Aaron Draplin
It is a bit weird to be at a marketing event, where lots of speakers are marketing professionals who know the importance of storytelling, but yet the only one who really captivated me with a story was a graphic designer! Besides being amazed by his graphic design skills (the guy has designed logos for Nike, Patagonia, the NASA, Obama,…), I was amazed by how someone that successful remains so genuine. His passion for graphic design and his personal values come out of all his sentences and examples. It was so inspiring that I even asked for a selfie and bought one of his field notes books! If you are interested into improving your design skills, he also offers online courses.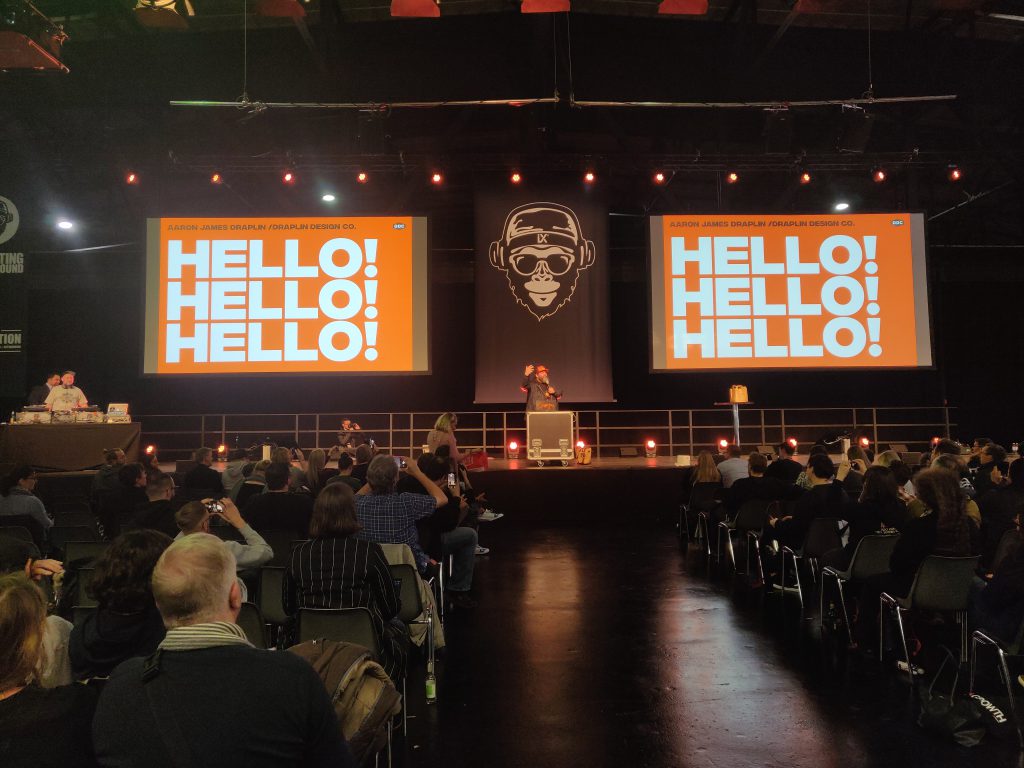 Everything starts on paper (or of his fingers on a tablet in the middle of the night if he doesn't want to wake up his girlfriend with noise, as for the following example)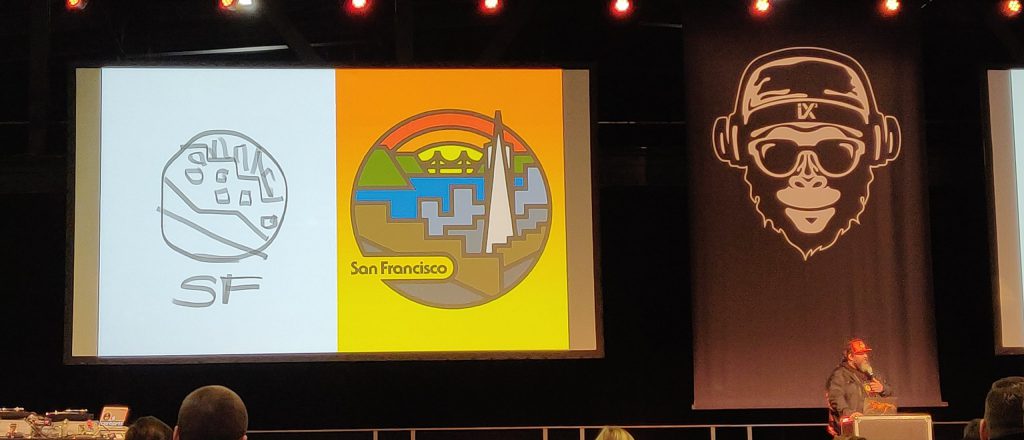 Do you want a proof that telling your story sells? Beside being impressed by his work, I fell in love with Aaron's values and directly bought his book after the presentation…and made a fan's selfie (thing I rarely request!).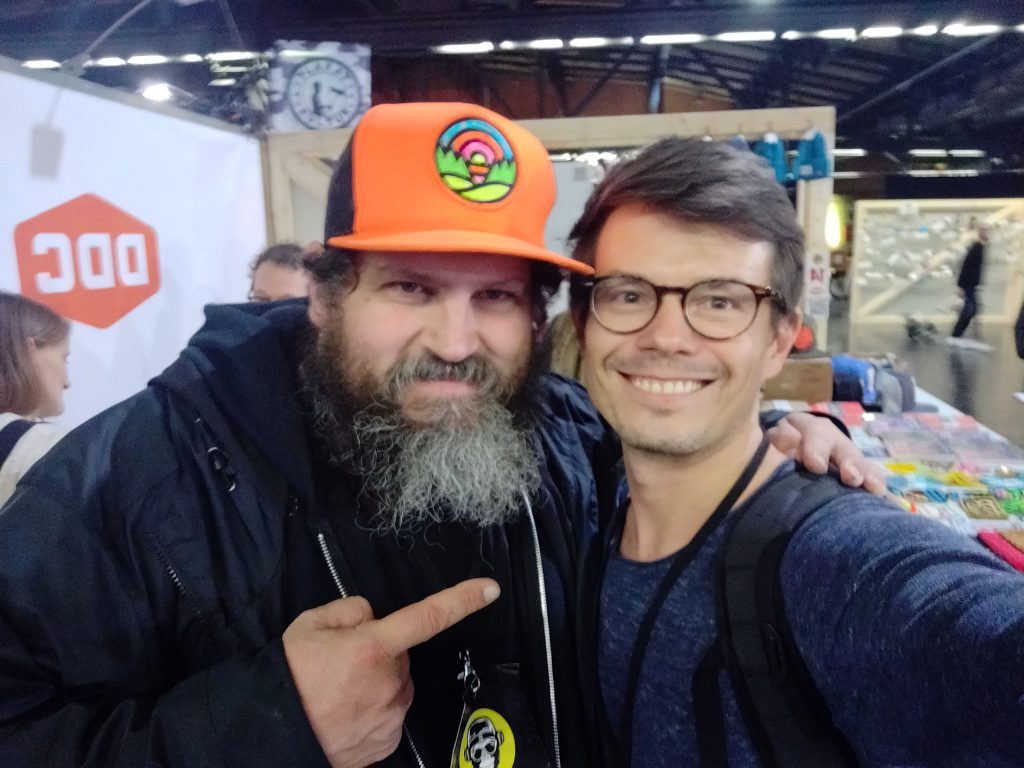 Optimizing conversion with Nils Kattau
Another very insightful presentation! Nils is definitely an expert in growth, UX and conversion! Check him out, as well as his online marketing e-learning platform The Digital Family.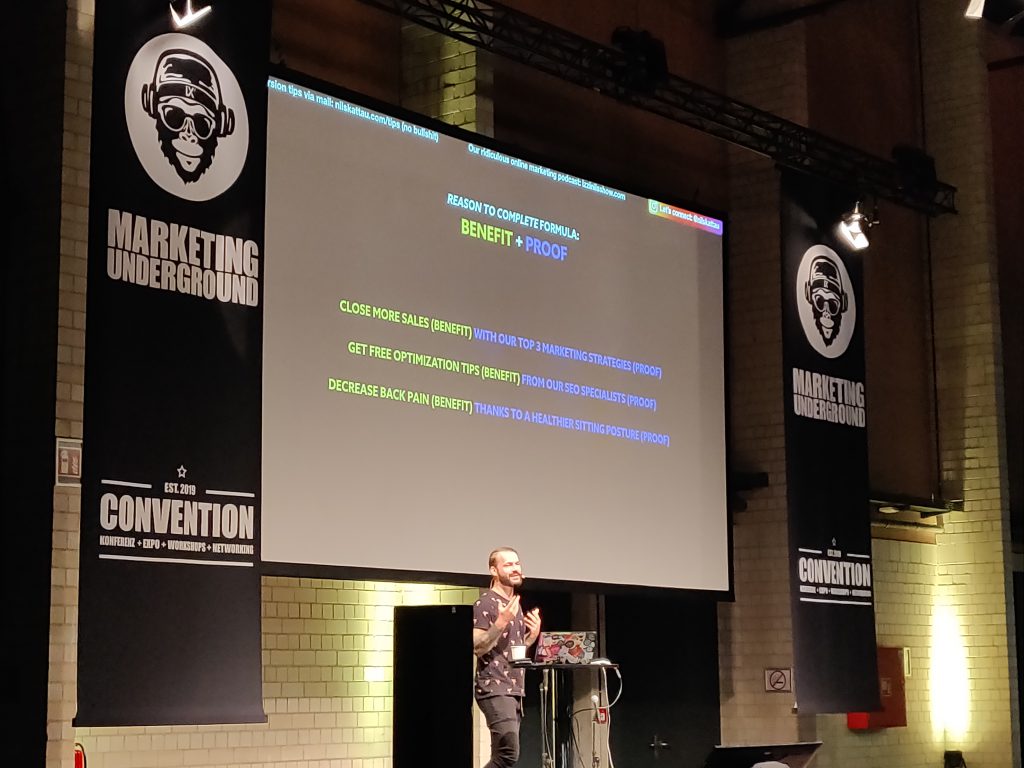 His tips for conversion optimization:
Don't only talk about feature

Use the complete formula Benefit + proof and explain how that feature is helping your customer.

The button color is not important: the contrast is!
Ask mum to optimize CRO

Show your website page for 10 seconds , do not explain anything about your service or product and then ask her these 3 questions:

What is the page about?
How is the offer good for you?
What should you do next?

Use a data-driven approach to find the right benefits

Use Hotjar (his affiliate link hotjar.nilskattau.com) to get qualitative and quantitative feedback from your visitors and

Stop using burger menu on mobile (or put it at least on the right side).
Get high on event tracking

Analyse all the steps through the customer journey on your website to understand how conversion could be improved
So here it is for my summary about the Marketing Underground event and what I think are going to be marketing trends in 2020.
Which marketing trends and which tips are you going to follow to boost your revenue in 2020?
I am sure I have only tackled a part of it with this summary, so I'd be curious to know which trend you think is missing in this summary?